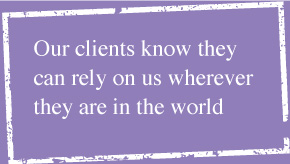 Across the globe our typically convenient locations allow us to offer our high standards of efficiency and professionalism throughout the world with maximum ease for clients.
We have recently added to our global portfolio into the United States of America with the PPV USA office conveniently located in Washington DC. PPV Worldwide is also supported by affiliated offices in Houston, Chicago, Los Angeles, New York and Canada.
We work closely with foreign embassies and consulates in the UK, US, Europe and the Middle East. We provide an expanding global reach and look forward to adding Australia to our portfolio in the near future. With other regional offices in Europe, USA, Asia and Riyadh we truly are global leaders with all the benefits that brings for our clients.
Our proficiency allows International and high profile firms and individuals to trust our team to deliver exceptional and timely services. We are always well placed to consult and present the very best solution for our clients.
We expedite visas for our clients who include multi-national banking institutions and global law firms through to military and defence firms. Our expertise allows us to enhance the consular experience of our clients by increased processing efficiency and reduced return time with our bespoke pre-application preparation and personal follow through. PPV have the most up to date knowledge on current VISA requirements.
Our clients return to us as they appreciate that the services we provide are secure, guaranteed and always handled with confidentiality and professionalism. Our clients know they can rely on us wherever they are in the world and the addition of our 'NO VISA, NO FEE' clause offers peace of mind that our clients always get value for money by using PPV as their long term partner. Please be assured that we do not take payment prior to visa completion. Our clients deadlines are our deadlines.